Supporting structures and anti-hail systems
- fruit farming
Anti-hail systems from Nedbalsystem s.r.o. offer a wide range of materials and combinations, taking into account their functions. The supporting poles form a supporting and load-bearing structure, and they can be made of concrete, wood or steel in the length necessary to allow the passage of machinery for maintenance, protection and harvesting.
The top part of the poles are equipped with hoods with a cross lock according to the type of pole used, which also secures the net. The anchor system consists of anchors and ropes depending on the size of the land, the length of the rows and soil conditions. Accessories for the anchoring system can come in a cheaper variant with the use of rope clamps, or a simple to service but more expensive variant with tensioners, double tensioners and triple tensioners for tightening ropes and wires.
Longitudinal and transverse load-bearing and safety bracing is constructed using wires or ropes with a high standard of galvanizing. We offer black, gray, crystal and zebra anti-hail nets in a width of up to 7 meters with reinforcement at the edges and in the center. Clips for connecting nets are mostly manufactured by Nedbalsystem using the highest quality of materials.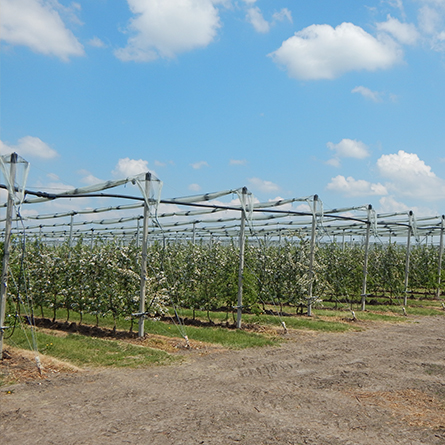 Contact
Workshop
Skladový areál Cerhýnky,
28102 Cerhenice (map)
+420 603 265 970, nedbal@nedbalsystem.cz
Opening hours:
Monday to Wednesday 9:00 a.m. to 3:00 p.m
Another date by phone agreement
---
Registered office and billing address
Nedbalsystem s.r.o.
Jaurisova 515/4, Michle,
140 00 Praha 4 (map)
ID: 09165738, TIN: CZ 09165738
C 331966 filed with the Municipal Court in Prague
Complete contacts