Insecticidal nets
Insect nets are installed to protect crops, PVC greenhouses and glass greenhouses from damage by pests that carry viruses and damage crops (Fruit fly - Drosophila Suzukii, codling moth - Carpocapsa, white fly, cabbage fly - Delia radicum, palm weevil - Rhynchophorus ferrugineus, and others).
It is most often installed in cherry orchards and blueberry, strawberry, raspberry and other small fruit farms. The nets can also be used in conventional organic apple and pear orchards with regard to reduced chemical spraying.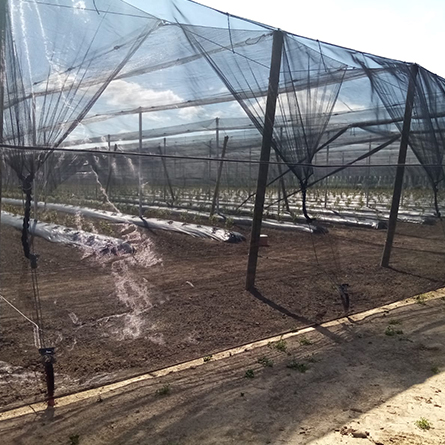 Contact
Workshop
Skladový areál Cerhýnky,
28102 Cerhenice (map)
+420 603 265 970, nedbal@nedbalsystem.cz
Opening hours:
Monday to Wednesday 9:00 a.m. to 3:00 p.m
Another date by phone agreement
---
Registered office and billing address
Nedbalsystem s.r.o.
Jaurisova 515/4, Michle,
140 00 Praha 4 (map)
ID: 09165738, TIN: CZ 09165738
C 331966 filed with the Municipal Court in Prague
Complete contacts